Medicare Reviews: "Time Well Spent" Appointments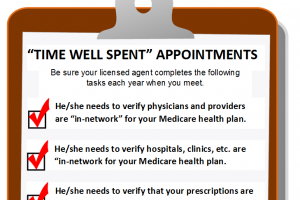 HOW NOT TO WASTE TIME…
With zero doubt, we all want to be smart consumers and on the subject of Medicare, as a beneficiary, you have to know the facts each year to make sure you are saving the most amount of money possible on your healthcare costs. By knowing the facts, you can avoid some "surprises" when you need healthcare; namely unexpected costs.
Every year Medicare health plans change. Their premiums, deductibles, copays, coinsurance; all these things can change… your COSTS can change. Each year providers, facilities, and drugs enter and exit plans. Each year plans themselves enter and exit the marketplace.
Even covered procedures.
DO YOURSELF A FAVOR….
Call a professional; a licensed, experienced healthcare insurance agent or broker, and have them sit down with you and explain your options. A "broker" is the best possible option because they frequently represent multiple companies, rather than just a couple or even one. Brokers can remain unbiased and uninfluenced by individual plans because they remain independent. Sales agents working for one plan and want you to buy their plan. Right? An agent is not going to be paid if you choose their competition. Makes sense, right?
What you need is an unbiased professional that you can trust to sit down with you and help you double check your plans against all those being offered to make sure.
While they are there, you should have them verify your physicians and other providers status; that they are "in-network" for the plan you choose. Not that they accept the plan… because that can be misleading. They need to be "in-network" for your plan. This is especially important in HMOs. Providers are very often moving in and out of network for plans.
They need to also check your facilities. Your hospitals, clinics, practices to make sure they are "in-network" as well. You really do not want to pay "out-of-network" rates if you do not have to. See the chart below.
IS ALL OF THIS REQUIRED?…
Heavens no.
Any agent; independent or not may be able to enroll you in a healthcare plan of your choosing if they are appointed and have certified with that plan on their product offerings. We do not even need your prescription list, provider list, etc. In fact, most agents don't want to spend the time necessary to do all this research when they come to see you.
And, it's important for you to know that, if you share that information with them, that it has NO IMPACT ON WHETHER YOU CAN ENROLL OR NOT… During the Annual Enrollment Period (AEP), you cannot be turned down due to poor health conditions. Everyone is accepted. The only purpose for sharing that information with your agent is so that he can evaluate what your possible healthcare costs will be for the coming year. It has nothing to do with ability to enroll.
THIS IS FOR YOU
The fact is our lives would be easier if we did not do all this research. Can you imagine. If I had 1000 clients for instance? Do I really want to look up maybe 10,000 drugs if each had 10?
No. This is not for us. Rather, this research should be our commitment to you. This is what I do for you that most will not. I want you to know all your facts so that you can make an informed educated decision, so that next year, you are not caught with a financial surprise!
THE BEST COURSE OF ACTION…
If you would like my help, then contact me. You can email me at [email protected] or call me at 859.654.0120
To visit my "Contact the NINJA!" page, go HERE!
---
Facebook Comments