Medicare Reviews: "Time Well Spent" Appointments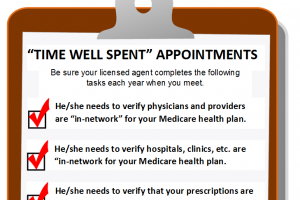 HOW NOT TO WASTE TIME…
With zero doubt, we all want to be smart consumers and on the subject of Medicare, as a beneficiary, you have to know the facts each year to make sure you are saving the most amount of money possible on your healthcare costs. By knowing the facts, you can avoid some "surprises" when you need healthcare; namely unexpected costs.
Every year Medicare health plans change. Their premiums, deductibles, copays, coinsurance; all these things can change… your COSTS can change. Each year providers, facilities, and drugs enter and exit plans. Each year plans themselves enter and exit the marketplace.
Even covered procedures.
DO YOURSELF A FAVOR….
Call a professional; a licensed, experienced healthcare insurance agent or broker, and have them sit down with you and explain your options. A "broker" is the best possible option because they frequently represent multiple companies, rather than just a couple or even one. Brokers can remain unbiased and uninfluenced by individual plans because they remain independent. Sales agents working for one plan and want you to buy their plan. Right? An agent is not going to be paid if you choose their competition. Makes sense, right?
What you need is an unbiased professional that you can trust to sit down with you and help you double check your plans against all those being offered to make sure.
While they are there, you should have them verify your physicians and other providers status; that they are "in-network" for the plan you choose. Not that they accept the plan… because that can be misleading. They need to be "in-network" for your plan. This is especially important in HMOs. Providers are very often moving in and out of network for plans.
They need to also check your facilities. Your hospitals, clinics, practices to make sure they are "in-network" as well. You really do not want to pay "out-of-network" rates if you do not have to. See the chart below.
IS ALL OF THIS REQUIRED?…
Heavens no.
Any agent; independent or not may be able to enroll you in a healthcare plan of your choosing if they are appointed and have certified with that plan on their product offerings. We do not even need your prescription list, provider list, etc. In fact, most agents don't want to spend the time necessary to do all this research when they come to see you.
And, it's important for you to know that, if you share that information with them, that it has NO IMPACT ON WHETHER YOU CAN ENROLL OR NOT… During the Annual Enrollment Period (AEP), you cannot be turned down due to poor health conditions. Everyone is accepted. The only purpose for sharing that information with your agent is so that he can evaluate what your possible healthcare costs will be for the coming year. It has nothing to do with ability to enroll.
THIS IS FOR YOU
The fact is our lives would be easier if we did not do all this research. Can you imagine. If I had 1000 clients for instance? Do I really want to look up maybe 10,000 drugs if each had 10?
No. This is not for us. Rather, this research should be our commitment to you. This is what I do for you that most will not. I want you to know all your facts so that you can make an informed educated decision, so that next year, you are not caught with a financial surprise!
THE BEST COURSE OF ACTION…
If you would like my help, then contact me. You can email me at [email protected] or call me at 859.654.0120
To visit my "Contact the NINJA!" page, go HERE!
---
Got my through a major crunch after my insurance was cancelled.

Debra D

I am incredibly grateful for the exceptional service provided by Michaed Todd Oldfield. Their professionalism, attention to detail, and dedication to finding the best coverage for my needs are always outstanding. I highly recommend Mr. Oldfield to anyone seeking reliable and trustworthy insurance services.

Todd helped me choose between several health plans. He reviewed three of them and got the best of the three for 2024. Thank you.

I was very satisfied, you really helped me to understand what I was getting! I appreciate you taking the time to explain everything to me! Thanks Todd

Thanks Todd for keeping things easy for me. I appreciate you.

Todd has been helping us find the best Medicare supplements for 7 years now! He's the BEST! Trustworthy and Kind…always has our best interest in mind as he looks over what would be the best coverage. Thanks Todd for making it so easy in the annual "search"!

Todd goes above and beyond to find the best for a client by successfully navigating a confusing insurance landscape. It isn't a one size fits all, rather a detailed evaluation for each individual's plan.

Great person! Doing a great job!

Maya Z

No company

Todd always does great work. He explains what options I have and provides his opinion if he thinks it is better for me. I really appreciate his expertise.

Todd is one of the most knowledgeable Healthcare insurance Agent by far. A true Professional.

Nonta P

I am so very thankful for Mr. Oldfields help. My most recent interaction with him was very helpful. He took his time to explain everything to me and to help me find the best temporary insurance for my situation.

Todd does a great job for me every year - so grateful I found him!

James stamper

Bo L

Mr. Oldfield patiently and expertly helped me through every step of a very complicated process. He continues to check in and constantly demonstrates that I'm an important client. I wish everyone navigating the healthcare system had such an advocate and guide!

Todd has been very helpful with all of our insurance needs

Deborah W

Dedicated Client

Todd has driven many miles for over 10 years to personally ensure I have the best coverage to fit my needs. He is most dedicated agent you could have.

I have been with Mr Oldfield from the second year of eligibility, so a very long time. I don't have to worry about anything. He always meets and exceeds all of my expectations. I have referred many family and friends to him. Once you go to the "Ninja" you never leave him. Being retired from the medical insurance business, you won't find a more dedicated, knowledgeable and trusted individual in your corner.

you are good Todd! Served me well over the years.

Diana E

Looking to see if better coverage than what i currently have. The photo is of me and my husband. However I am the only one interested in appt.

Currently have a Medicare advantage plan

Todd helped me a great deal. Pleasant and gave clear explanations for the uninitiated. Easy to reach for any problems or concerns. Was available when I needed him.

Todd is very professional and explains all you will need. He is so easy to talk with and is very thorough in his search for the right plans you need. He will not waste your time and you will feel confident using his service!

Love this man Todd been taking care of my Health insurance for the past 10+years He is the Best

Todd helped me a great deal. Pleasant and gave clear explanations for the uninitiated. Easy to reach for any problems or concerns. Was available when I needed him.

Made it as painless as possible for us to obtain Medicare supplements and drug plans that were in our best interests

Diane K

Thank you for Following up with me.

Have enjoyed working with Todd for several years now, trust him completely.

Cary T

The Art of Soccer

Todd is great! Knows his stiff and takes the time to explain any questions. Very belpful!

I really like ninja he takes good care of me Thank you very much your friend Arville Simmons

I am just starting Medicare this December. Todd has been so helpful. I don't know what I would have done without him. He is truly a blessing.

Todd is a very knowledgeable —he KNOWS insurance. And has kept me on track for 3 years now.

Todd has given me excellent service for 3 years.

You have always been there for me. You explain y options so that I could understand. You have baan a friend to me and I appreciate you.

Saved me money on my health insurance premium. Helped me file forms for GTL insurance.

My husband and I started with Todd after we decided not to go back to Winchester to an agent. Todd has been wonderful with us. He cares and makes sure you get what is best for your needs.

Would not have anyone else but Todd.

Todd opened my eyes on opportunities for my retirement savings as well as my options for my healthcare. Plus, he's fun!

Todd helped me by coming to the house due to my fall and I cannot walk.

I attended a class. Todd helped me with my Medicare & savings!

Todd has always been there for me no matter what I needed help with. He is a very updated and knowledgeable agent. He is very nice and helpful even if he has to drive a long ways to get to you.

Thank you Todd

Todd came to my house and I felt he and I had known each other for years. He showed me how I could save and believe me, I have saved!

I love Todd!

Even though I had years of medical insurance billing experience, Todd help me navigate the Medicare options that were the most financially beneficial for me and my current situation.

I trust Todd and appreciate his knowledge and sensitivity to people on fixed income.

Stephanie S

He got me some relieve of prescriptions.

Helped me with my Medicare and recommended additional supplement for future coverage.

You cost me money. You at all my chili but you licked the bowl clean HO HO!

Saved me money - I feel better knowing I have more coverage -

Mr. Todd is a good person - is willing to take time to help you in all your needs.

Todd helped me to get an Anthem Advantage Part D Plan. It is working fine but I want to add eye and dental. I know Todd will help me with that too. I am very satisfied with Todd Oldfield,

My out of pocked expenses have been minimal!

Todd has always been available any time I have questions. He has helped friends of mine with good coverage as well.

Todd helped me with my Medicare.

Todd helped me save money on my healthcare

Todd did all the leg work to get the most for the least. For me, it saved me a tremendous amount of time and frustration.

You saved me money on my insurance.

You save me money on my healthcare now that I have had a pace maker. I had it put in February of this year.

Todd has put up with me and I really appreciate it. Thank you, Todd!

Todd is an excellent man & sure is intelligent person. God Bless him.

~Lillie

Todd helped me navigate the crazy world of Medicare and I would be lost without his knowledge and expertise.

Very well & God Bless You.

I want to thank Todd for suggesting that I purchase a supplemental insurance ("GTL"). I had a bad fall and broke both shoulders. Without the insurance, I would have had more co-pays.

Thank you, Todd.

Todd helped me get an insurance plan that saved me almost $300. Also I can get OTC drugs.

More coverage. Less money. I now have peace of mind.

Todd is an awesome person that has taken care of me for the last few years. Love the personal detail and with a fine tooth not missing a beat with my Medicare needs. Has helped me one on one and he is very unique and one of a kind.

Yes. Save money on my insurance by using a better plan.

I have been so please with Todd. I have been working with him for 4 years. Always does a great job checking each year! Always asking all the questions to see if my needs have changed.!

He is the real deal!

I had two meetings with Todd with regards to healthcare coverage. I found him very helpful and tried very hard to get the best coverage they were offering. He is honest and trustworthy. I would recommend Todd to any body with regard to coverage. He also helped my son with coverage.

Todd got ACA coverage for me when I lost Medicaid. He was very knowledgeable and it was great getting it done so painlessly. And no charge! I would definitely recommend him as an agent!

I stopped by Mr. Oldfield's booth at Walmart, and he spent 30-45 minutes, maybe more, talking with me and on the phone to at least 2 different people to see which insurance needs fit me best. He also set up a follow up meeting/phone call to continue our conversation and made another phone call on my behalf.

This guy truly wants to help people and went WAY out of his way to assist me and my needs.....THANKS! 🙂

TREMENDOUS HELP! HE SET ME UP WITH A LAN THAT PRESERVED MY SAVINGS THOUGH MULTIPLE HEALTH CRISIS, SOME OF THEM QUITE SEVERE.

I trust Michael Oldfield. He's been my agent for years. He always makes time for me. Always makes time over the year to explain any changes. If I have any questions, I can call him. If he's not available, he calls me back soon as he can. I probably would have changed a long time ago if Mr. Oldfield wasn't my agent. He's like family.

...I want to hank you SO much for guiding me into a supplemental insurance policy. I have had a really rough year, health wise.

In September last year, I got a fracture in my lower back. In December I got another one. I went through therapy, shots, etc. Long story short, I had surgery on July 10th. He put rods and screws in and I am doing better with that. Still in some pain, but considering the excruciating pain that I was in, I hate to even call it pain.

I have had pain and weakness in my left leg since the surgery. He thinks I have a pinched nerve or a damaged nerve above where he put the rods in and he is still working on this problem.

Again, thank you for all you have done for me. If it wasn't for the supplemental insurance, I could not have had any of this done. I have been to more doctors and have done more procedures done this past year than I have in my entire life combined. That includes going to my doctor every 3 months for my diabetes (which is doing great). 

I know my insurance premium will probably skyrocket, but I am so blessed to have had a way to get this done...

Very sincerely.

RF

Todd helped me pick a plan that best covered my needs.

Saved me money on not having to pay monthly premiums and on prescriptions (by receiving them in the mail.)

Saved me more than $2,000.00 per year.

Todd saved me a specific amount of money.

Todd increased my coverage.

Todd gave me information for different plans & price & how to use them to my benefit.

Thanks Todd

He helped me find the proper health care coverage for me.

Yes. You sure have saved me and Phyllis lots of money and hope to keep saving.

Thanks.

Yes, we feel you have helped us. Fortunately I have had no measure illness.

Mr. Todd has been of great professional assistance for our Humana Medicare insurance.

My cool agent Todd is an amazing, great thorough and knowledgeable man and has the personality to go with it.

Todd was a great help to me this past year on a claim for me. Found out Medicare or Humana didn't pay for a chair lift for our home. He will answer any questions I have for him. Thanks Todd

TODD DROVE TO MY PLACE TO HELP ME FILL PUT SOME PAPERS THAT I NEEDED. HE DROVE A LONG DISTANCE ON A RAINY DAY TO HELP ME.

HOW MANY PEOPLE WOULD DO THAT? HE REALLY CARES ABOUT HIS PEOPLE, AND GOES ALL THE WAY TO HELP WITH WHATEVER HE CAN. I AM SO GLAD THAT I HAVE MEET THIS MEDICARE NINJA, AND I TELL ALL MY FRIENDS ABOUT HIM.

HE IS SUCH AN ASSET TO HIS COMPANY.

THANK YOU

~T. BRUNER

It is been great to work with Todd Oldfield he helped us a lot was very patient with us and answered all of our questions i will recommend him to any one.

Todd helped me with advice on a long-term care policy that I have had for years never used but it, was changed and the cost went up, and services afforded went down. I feel his advice was the best I could have found and was available. He is a special man devoted to his clients. He helped willingly and it meant nothing to him or his time.

Todd explained things to me so I could understand it. He pointed out this policy that world be the one better to save me money.

Todd helped me get my insurance cheaper.

Todd is very specific -- cutting to the chase - helping save money on healthcare and it great! And fast!

Todd has always helped me in finding more reasonable prescriptions within the area.

Todd was very detailed and covered my every need.

Very nice, trustworthy as well. Honest in explanation and knowledgeable about what he was talking about.

Knowing that Cool has my back is a advantage.

Mr. Todd came to me on a day's notice, and advised me of my options and helped me chose the plan that best suited me. He is great at his job and very knowledgeable of your choices. I would recommend him to anyone because I have to my own family members. I am also proud to call him a friend.

I would be lost without Todd.

Todd has always been very helpful. He explained thoroughly the plans available and which would suit my needs better. On top of that he's always been very friendly and has a good personality.

Todd told me about OTC plan (vitamins, etc.) that I was not aware of. Saves me at least $45 per calendar quarter. Every $$$ counts. Very pleasant to work with.

Todd helped me on my medical prescriptions with lower prices for me to pay.

Dear Todd Oldfield;

We were very pleased to of found someone we can rely on that will return calls if needed and always with sincere humor always ready to answer our questions. We feel you saved us money and did not increase our premiums. That's a plus! We love doing business with you. Hope to always have you around. Stay cool. Sincerely.

Todd help me save on Medicare and healthcare.

He was very nice and helpful to make us understand our plan more completely. He saved us money also!

Todd Oldfield has been very helpful in regards to our health insurance and has been very dependable.

Todd was extremely helpful with my Medicare intitial application for prescription coverage. Todd returned twice to ge everything just right. I learned cheaper isn't always better.

Thanks, Todd

Bonnie

Todd saved me money on my prescriptions. I love the Silver Sneakers program.

Once again the NINJA came thru with flying colors...This man is amazing in many ways...I had an issue with my insurance lapsing, I called Todd and without hesitation he made an appt. for the next day...30 minutes into our appt. my problem was solved...Now that time frame was blessed with short waiting period on the phone, that probably isn't always the case...But he was willing to stay on task regardless of the waiting time...I suggest and recommend Todd for any and all of your insurance needs...Besides that he is great to sit and talk with because of his knowledge and wisdom in so many areas....Once Todd I THANK YOU for all of your help and support..

Todd helped me save money and was really good with the paperwork. He showed me all my options.

He helped know which was the best way to go on my insurance. Then last year he helped me get some bills cleared up through my insurance after a surgery.

He was kind, patient with me, and wonderfully helpful.

Todd helped me pick out the right package for me. He explained everything to us so we understood it. Very nice and well mannered.

Yes. Todd helped me save money on my prescriptions and health care.

You have saved us money. Hope you can keep saving us money. Lots of the medicine is a racket. Thanks for being there for us.

Todd helped me very much. He answered all of my questions.

Calmed my fears. The plans you picked for me worked great. Thanks.

Todd helped me with answers when I need help. Thanks a lot!

Todd helped me transfer to Humana without any problems.

Todd showed us an insurance plan that was right for us. The process was quick, simple, stress free,  no-hassle. Amazing! God Bless you and thank you!

Helped me know what I needed. Very kind and helpful.

Anytime I've had questions Todd has always took the time to explain what I need. With health insurance as it is today, we need someone to "stand in the gap" for us. Todd is not only our agent but has become a dear friend as well. Really do appreciate him.

You helped me understand my healthcare and my Medicare. Thank you.

Todd was good about meeting me at a location closer to where I live.

Thanks for helping me get my meds!

An for all the trouble you have gone though trying to get my Medicare Part B straightened out. See you soon.

Todd saved me money when he explained the benefit of an HMO instead of the PPO I had for years. Given my good health status I do not go to the doctors much. Todd also looked up different PCPs for me to choose from. Very helpful. I have never had this much help!

Todd saved us money on insurance, Medicare and he can answer all your questions.

Todd helped me get set up with Humana Advantage plan. He made it easy and I greatly appreciated that.

Todd helped me save $18.80 on my prescription medications.

Mr. Oldfield helped my husband and I get his retirement plan plus social security for us in order. Had I listened better, I would be paying less for a drug plan.

Todd, You saved us money and we were so happy I ran into you at Wal-Mart. We found you to be a really nice quy and look forward to working with you next year. I will make you chili again!

Todd found me the best plan with the most options for less money. Explained in detail the various components of my policy and how to save money.

Todd was wonderful helping me decide on a plan. I liked having someone to guide me thru the process who is kind, knowledgable and helpful.

P. Rhineheimer

Todd has always been very helpful in answering any questions I have had. Has also helped other family and friends.

The most helpful agent ever.

Todd, I especially appreciated the "changes" in the federal Medicare, etc. for 2016. I can now anticipate those changes.

Todd was an absolutely wonderful in helping us to navigate our way through the medicare and supplemental insurance hurdles. He took the time to explain everything for us and was very knowledgeable. I would highly recommend him.

I was very impressed by the excellent meeting I had with agent Todd Oldfield from the 'cool' group of agents. He was very through, professional and knowledgeable. He had the answer to any question I had and further was not in a rush, seemed like he thought I was a human being as opposed to just another commission. He also met me at a little deli about half way between Lexington and my little home down on the Kentucky River. [to tell you the truth I believe he would have come all the to my home but I would not ask that of anyone without a 4 wheel drive vehicle that had a ground clearance of at least 10 inches. But I bet he would have . ]

If the rest of the agents associated with the 'Cool Group' are anywhere near the caliper of Mr Oldfield then this is certainly the place to shop for your insurance needs. In my case I was to start with Medicare. (the government seemed pretty adamant on this point) The plan Mr Oldfield laid out was with Humana and I truly believe that I came out with better than I could have by just letting the government give me whatever their concept of health-care is, the Humana folks picked up from there and sent me a great deal of info on my plan and continue to be on call for any questions I may have.

Now I just need to get sick. OK, no I really do not want to get sick, but it's a comfort to know that I have good coverage and then some. I did book an appointment for a check-up and place an order for my monthly $30. worth of over the counter items including a blood pressure cuff w/stethoscope.
I highly recommend the 'cool' group and agent Todd Oldfield.

Yours in Liberty,
David G. aka riverdave

Todd came to my house instead of me having to go to him. He sat down and explained Medicare and supplemental health insurance fully. Through his computer program he defined best program for me. Additionally best RX program and saved me ENORMOUS time and energy.

"Best insurance agent I have dealt with."

He is very knowledgeable, with insurance needs very helpful. If he does not know the answers he will gladly find out and get back with his client. I like his work ethics. Nice. Polite.

Todd has always explained the choices well. He has been available anytime I or friends of mine had questions or issues about payments. He has become a friend.

Mike (Todd) was extremely helpful with my insurance coverage. I feel he got me the best possible insurance and at the least cost! Very, very knowledgeable.

My agent, Todd Oldfield was very professional and very well informed.

While Todd is known as being the Medicare NINJA, he is also well-versed in Kynect health insurance plans. He expedited the sign-up process to ensure the deadline was met. In just one conversation it became quite evident Todd knows the insurance business and I knew right away I was in good hands! He listened to my concerns and addressed them timely. He achieved the results I was after - so I now know him as the Kynect NINJA!

Mr. Oldfield came to our home and explained the choices of supplements. He was very knowledgeable and patent when we asked questions and I feel I can call him anytime if questions arise.

Mr. Oldfield was very helpful in helping me obtain affordable health insurance.

I want to thank Todd for making a big difference in my life. Since I am turning 65 soon, Todd came to my home and reviewed my current insurance. I am thoroughly confused by insurance companies. Todd showed me that I have been paying $60 a month, for the past 6 years for a policy that has covered nothing. Todd made phone calls and prepared the necessary paperwork while he was at my home. Now I have the coverage I need, extra money each month, and Todd as my agent to make sure my insurance needs are met. He is also very friendly and by the time he left, I felt like we were old friends. Thanks Todd!!

I want to express my appreciation for your assistance in enrolling me in an individual insurance program. I was impressed with your vast knowledge of all types of insurance. I will call you to revisit my insurance needs.

You surely must know you are appreciated by all your clients. The labyrinth of insurance details is messy business. A person needs people like you to sort out the messy, confusing options. Aside from making an informed choice, you were especially pleasant and kind.

The speaker clearly knows the material. I came away feeling like I had a much better understanding of Medicare; it's components, my exposure to financial risk should I become ill, and how to protect my finances.

So glad I came. Helpful tools & very pleased with presentation.

G. RIESTER

Michael Todd is one of a dying breed of sales reps. He knows his product , is very sincere and honest and as dependable as a mother. He loves his job and strives to be the best for you; the customer .

Mr. Oldfield is extremely proficient in with his knowledge of insurance needs. I called just a few days before the open enrollment deadline.. He told me not worry that we would get it all taken care of.....Taken care of it was...I met with at our appt and 30 minutes later, I had insurance, basic knowledge of the policy which was explained in more depth when I called a week later to ask some questions...Todd is a knowledgeable, genuine and caring insurance GURU..... HE ISN'T CALLED THE "MEDICARE NINJA FOR NO REASON".....Call him for your healthcare needs...you won't disappointed.....

I was in need of health coverage so I went to my friend Todd Oldfield. He was able to help me out. He has gone above and beyond the call of duty to make sure I have proper coverage. I highly recommend anyone that needs coverage to call on Todd for help.
Facebook Comments