Annual Review Appointment Scheduling 2022
Hello All.
It's time to schedule your annual Medicare / Kynect / ACA review. Remember, this is for YOU; not me. We need to make sure always that you have the best plan for YOUR needs.
You may schedule your appointment 1 of 3 ways.
OPTION 1 – SCHEDULE YOUR APPOINTMENT YOURSELF – It's very easy. Simply click the link below, pick a day and time, answer a couple questions and you will be scheduled.
OPTION 2 – You can call Regina and she will schedule your appointment for you (she is out having surgery today (Friday) so she will return calls on Monday. Call her at 859.800.7774 extension 1 (If her voice mail is full, she will call you)
OPTION 3 – Wait and Regina will call you when she can.
I advise picking option 1 or 2. We have 350 more appointment slots only, and that many appointments to schedule. Do not wait!!!!
I do not want you to be overlooked.
And please, do not forget to drop by www.popltodd.com and save my contact information. See you soon, God Bless!
Todd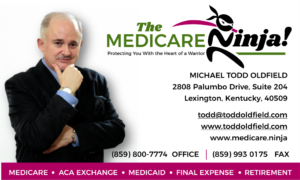 Facebook Comments