2023 ANNUAL MEDICARE CLIENT LETTER
A SEPARATE LETTER WILL BE OUT FOR KYNECT CLIENTS IN OCTOBER, SINCE THIER OPEN ENROLLMENT IS NOT UNTIL NOVEMBER 1ST.
---
 MICHAEL TODD OLDFIELD
Your Cool Financial NINJA!

859.800.7774, option 1 then option 1
September 15, 2023
TO ALL MEDICARE CLIENTS
FROM MICHAEL TODD OLDFIELD
I would like to say thank you to each and every one of you for your trust, your business, your friendship, and your REFERRALS! My business has grown nearly 50% since this time last year.
If you are new to this, an annual review of your Medicare or Kynect plan is necessary during your Annual Election Period ("AEP"). Why is the "open enrollment" or AEP season so important?
Well, this is the time of the year that each of you get to see NEXT year's health insurance plans and make your selection as to which plan you believe will serve you best. In Medicare, the right plan should of course cover which doctors you wish to see, which meds you need to take, and then and only then, what "free stuff" the insurer is offering. Never make a healthcare plan choice based upon the "free stuff".  The television commercials like to sell the idea that you "should not miss out on everything you are entitled to". That is horse snot. Good healthcare, your doctors being covered and getting your drugs as cheap as possible; that is what matters. Do not let television commercials confuse you. Their purpose is to scare you into thinking you are missing something.
PRE-ANNUAL ELECTION BEGINS OCTOBER 1st FOR MEDICARE BENEFICIARIES (NOVEMBER 1 FOR KYNECT CLIENTS)
Just about the time you receive this letter, Medicare clients will be receiving a text message with a link to go to, to schedule their appointment to talk to me this year (Kynect clients will be next month). Do not "Dawdle" as I have almost four hundred Medicare clients to see in the month of October. It is much better to be one of the first to schedule than one of the last… It takes less than 2 minutes. This coming text message should happen by this weekend.

Step 1 for Medicare Clients – Immediately Schedule Your Annual Review
To schedule your appointment, you simply click https://toddoldfield.com/booktodd/ pick a day and time to meet that is convenient to you; and answer some questions. That's it. You are then scheduled.
Kynect/Medicaid clients will schedule next month.
If we cannot reach you by text message, do not worry. Regina will call those that do not get their appointment scheduled this way. She never let's anyone slip through the crack.

 Step 2 is About Saving My Contact Information in Your Phone
From your phone, please click www.popltodd.com in your browser and visit my digital business card on Popl.co. There you click the green "Save Contact" button. Follow your phone's instructions, and save my contact information to your phone, along with my picture. Even if you have done this previously, please do it again. Some of my contact information seems to change every year. The benefit to doing this is you will see my picture pop up when Regina or I call you.
Step 3 is Leave Me a Testimonial (if You Like)
You can do this or not. It's up to you. I would appreciate your feedback on the work I do and on my processes. Simply drop by www.toddoldfield.com/addmine and tell me what I did for you that helped you. I need that feedback. While you are there be sure to read some of more than 100 other testimonials that have been sent in.
IMPORTANT: ANNUAL ENROLLMENT NEWS!!!
I am very happy to report that I have added SEVERAL NEW companies above into various places in my life. These include many long standing relationships as well such as; 
Allstate has a really nice Medicare Supplement plan with good rates and offers discounts if you wear a Fitbit or other tracker.
Essence Healthcare has been a five-star Medicare Advantage plan. It might be this year. We do not know yet.
Ameritas has a nice dental and vision plan.
Molina and UnitedHealthOne offer great products for the under-65 Kentucky clients.
Cigna is now allowing agents to write their drug plans.
UnitedHealthcare has been a national leader for a long time. I am still not very fond of their Medicare Supplement rates, but their Medicare Advantage products have improved every year.
And, of course, Humana, Anthem, Wellcare, Aetna, Cigna, and Mutual of Omaha (and others) will be returning. So, we have to factor all these new companies into our decisions this year. No matter who you chose, I have them covered. We need to look at ALL companies and ALL plans and offerings and compare ALL our choices.
Let's now talk a bit about the changes in Medicare Marketing Guidelines; the "Disclaimer", "Scope of Appointment", and "call recording" requirements.
MEDICARE DISCLAIMER GUIDELINES (KYNECT/Medicaid can ignore)
CMS (CMS is the governing body over Medicare) has changed the marketing rules on us. Now any conversation that discusses Medicare plan choices must begin with…
"We do not offer every plan in your area. Any information we provide is limited to the ten insurers we do represent (which includes Aetna, Allstate, Anthem, Cigna, Essence Healthcare, Humana, Mutual of Omaha, CVS/Silverscript, Wellcare, and UnitedHealthcare) and their more than 60 plans they do offer in Kentucky. Please contact Medicare.gov, 1-800-MEDICARE, or your State Health Insurance program to get information on ALL your options."
Argh. I literally represent every option there is. I leave no one out. Again, check the list above. The irony is only licensed, honest, hardworking agents follow the rules. We are not allowed to call Medicare beneficiaries that are strangers and ask them to do business with us. It is just simply not done. If someone calls you, hang up the phone. They are not licensed. Trust me or another licensed professional.
So, to be in compliance with Medicare guidelines this year, it means you will have to call me for our appointment. I can no longer call you. You have to call me and listen to the above greeting. Regina will remind you the morning of your appointment. She will tell you how to call in. Please do not be late!!!
MEDICARE SCOPE OF APPOINTMENT ("SOA") GUIDELINES
CMS is also beefing up their SOA rules. For many years we have had SOA's to deal with. You have done a SOA with me before.
If you think back when I signed you up for either a Medicare Advantage plan or a PDP, the first document you signed was a "Scope of Appointment". That was where I said "this outlines what we will be discussing" and then I told you we have to keep these documents for 10 years. Yuck. But, it is true. I have 100's or 1000's of them dating back 10 years.
Well, this year CMS is really cracking down on SOAs. In theory, if I cannot produce an SOA on any appointment I had with any Medicare client, that was not completed at least 48 hours prior to our appointment I am dead meat. LOL. Maybe even lose my license. So, for sure Regina will be texting a SOA and following up on them for each Medicare client. If you cannot do the internet, Regina will mail you one. But, we MUST have it back 48 hours before your scheduled appointment or we will have to cancel.
CALL RECORDINGS
LASTLY, MEDICARE REQUIRES ALL CALLS TO BE RECORDED WHEN DISCUSSING MEDICARE PRODUCTS SO YOU MUST CALL ME FOR OUR APPOINTMENT AT
1-859-800-7774, CHOOSE OPTION 1, AND THEN CHOSE OPTION 1
ONE LAST TIME TO REACH ME.
The first Option 1 will take you to the disclaimer mentioned above and then from there, the second option 1 will transfer you to the recorded line and to me. Then we can talk. It's actually pretty simple.
SUMMARY
That's all there is to it this year. If you would prefer to call in and schedule your appointment, that is fine. Regina will begin calling everyone September 18th and will keep calling until we get everyone's appointment scheduled. You may know this already. Honestly, she pesters people to death until they schedule their appointment. LOL. The best thing to do is "head her off at the pass" so do it NOW! TODAY! There really are only a limited number of slots available.
If you do not want to meet this year. That is fine as well. Just tell Regina that you are VERY happy the way everything is set up and we will not meet. These appointments are for you; not for me.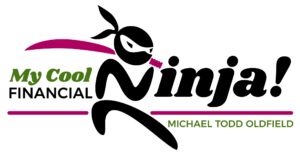 The last topic I wish to address is… I am no longer The Medicare NINJA! I have always loved that nickname, but, it does not really tell the whole story. I am so much more than a Medicare resource or Kynect advisor. Did you know, I am equally skilled at;
Getting people out of debt…
Providing them with a legacy for their families through the right kind of Life Insurance…
Helping them save for retirement…
Assisting them in creating a plan should they need care services…
Helping them create a guaranteed income stream so they will not run out of money…
My goal is to save you money on your healthcare, and protect your income during retirement, and your family at all times should you not be around as long as they are. Anyways, that is all I have today. So, I proudly announce… I am your Coooooool Financial NINJA!
Todd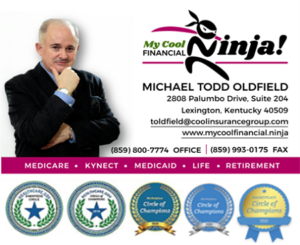 Facebook Comments