Grand Opening Luncheon & Overview
March 2 @ 10:00 am

-

12:00 pm

UTC-5

Free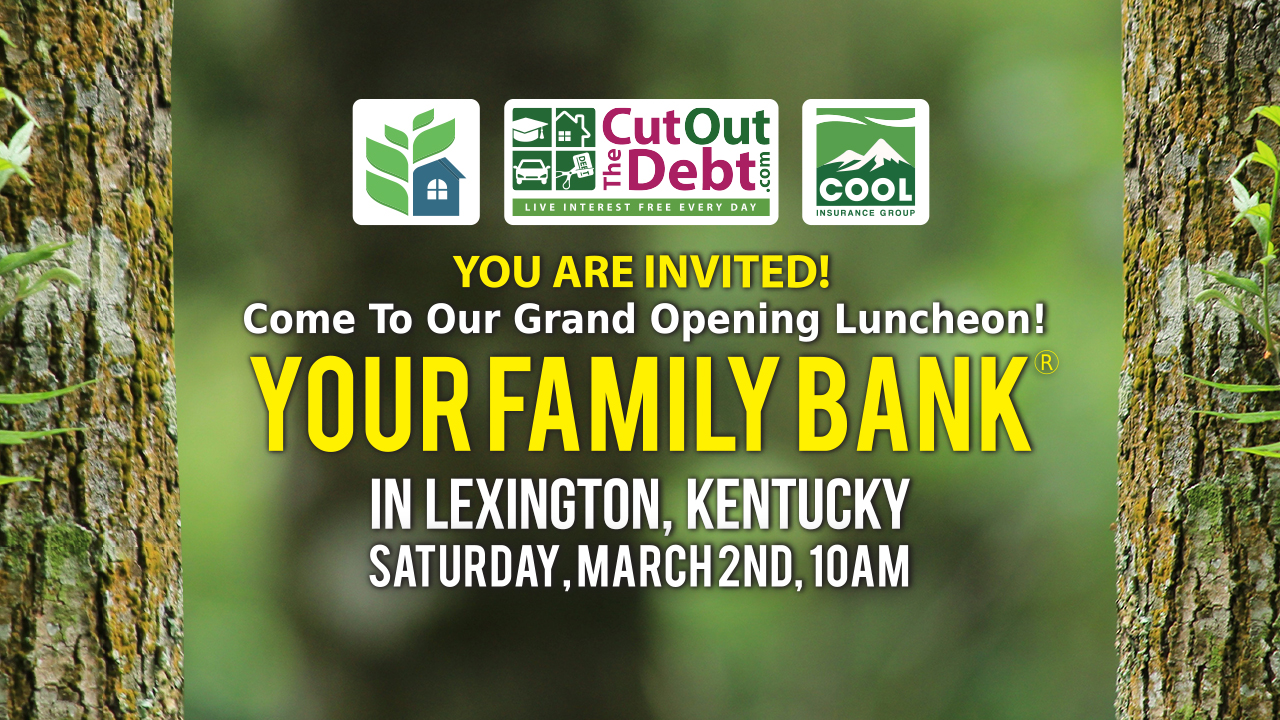 GENERAL INFORMATION
Come join us as we celebrate the opening of our YourFamily Bank® ("YFB®") office in Lexington, Kentucky. There will be fun, food, folly…. and great information shared.
Let me share with you a little history.
The concept's used by YFB® have been around since 1980. Check out  R. Nelson Nash's book "Becoming Your Own Banker". Nelson discovered a way that we can all become our own bank and over time shift the volume of interest we spend from others to ourself.
However, while he might be the "grandfather" of our industry, it was really Pamela Yellen who made the idea more widely known since her New York Times Best Seller / Wall Street Journal Best Seller "Bank on Yourself" was released in 2008. Pamela took Nelson's ideas and tweaked them just a bit, and really did create a financial revolution for many families.
Then, around 2010, Larry McLean front Saint Augustine, Florida launched YourFamily Bank® and has taken the industry to a whole new level. In fact, according to McClean, during the most recent years of 2016-2018 alone, YFB® created banks for their clients and will have saved them more than $171Million in interest and will have created more than $1.4Billion in retirement income by the time they retire; if they follow plan.
During this short 30 minute presentation, Michael Todd Oldfield will walk us through the "7 Steps" you need to use to change your life forever, eliminate all your debt, and RETIRE GRAND one day.
We do not teach that you have to live on rice and beans, cut up all your credit cards, and have no fun. Just the opposite. He will teach you how to change the way you think about interest, and learn how to pay yourself, rather than others. Think of this as Dave Ramsey on steroids; but with fun!
Come learn. The purpose of the event is to expand your thinking. Attend and you will receive some freebies;
"Bank on Yourself" by 

Pamela Yellen's; New York Times Best Seller, 2008. Wall Street Journal Best Seller List, 2008.

Todd will meet with you sometime after the luncheon and arrange for you to receive you own "Big Picture Debt Report"; a comprehensive document that will show YOU exactly how long it will take YOU to pay off YOUR debt going the way you are going now, doing what you are doing; AND; how long YFB® will get you out of debt; GUARANTEED. You will see the exact month that you will be done and how much interest you will save should you choose to set up your own YFB® bank.
IS YOURFAMILY BANK® RIGHT FOR YOU?
It is not our desire to waste your time… or ours.
Answer the following questions in your head. If you answer "yes" to any of them, then you probably should come and learn. If you answer "yes" to ALL of them… then you need to just go ahead and call Todd and not wait for the luncheon.
Do you have a mortgage, student loan debt, credit cards, and automobile loans?
Do you know how much you truly owe? Bet you don't. 
Do you know when you will be debt free? What month in what year?
Do you know how much interest you are really paying?
Do you know how you will pay for your children's college education?
Do you know how you will retire? How certain are you about retirement? Are you positive it is going to go well?
What about illness? If you got really sick, how would you pay to fight it?
What about long-term care later in life? How are you going to pay for it?
MEET MARK!
Mark is an average YFB® client…
WHAT WILL YOU LEARN AT THIS FREE LUNCHEON?
The YFB® lifestyle is just that. It's a lifestyle. In this short presentation Todd Oldfield will…
TELL YOU ABOUT how YFB® can help you to develop a plan with guarantees that will change and transform your life over the coming years. Nothing less than that. I promise!
TEACH you how to shift the volume of interest you spend each month. Right now you are probably paying more interest than you think… and to someone else. Did you know that can be reversed and SHOULD be reversed?
ASSIST you to become your own bank! Pay the interest to yourself rather than someone else. Yep. It's possible.
We will WORK TOGETHER to create a plan that will pay off your debt faster than you can imagine; even if you just took out a 30 year loan or refinanced (always a mistake). We can have you out of debt in about 9 years.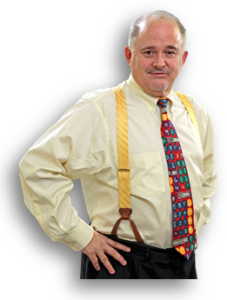 Come join us. We will have a nice lunch. You will receive gifts. The information will be incredible. But, also rest assured. No BS. No Hype. No pressure applied of any type. This is just now our way. We are not hear to sell you anything. We are not here to talk you into anything. We have a brilliant, force of nature; a mathematical system that when used correctly shifts the burden of interest from where you are paying others… to where you can begin paying yourself.
The presentation itself will run only 30-40 minutes. Lunch, questions, socializing might run longer.
We will have a second meeting after the first for those that bring all their financial statements with them, in our 2nd floor conference room. In this breakout session, I will answer all your questions. We will have discussion, and complete our request for your "Big Picture Debt Report" right there, right then. Remember, there is no cost nor obligation of any type.
If creating your own YFB® does not save you a bunch of money, then so be it… no reason to do it. You are out nothing. But, here is a little secret. Bet you will save a BUNCH!
See you there!