The KEY Question…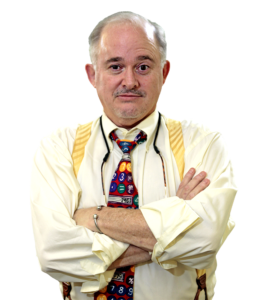 Answer the Following KEY Question For Yourself!
"If I can show you how to get completely out of debt in nine years or less including your mortgage & student loans; guaranteed; without having to spend any more money than you are right now, would that be worth a conversation?"
If you answered "yes" then book an appointment with me and let's talk. Book an appointment below.
Who is this for ideally?
This plan best works for people who are committed, smart, and ambitious on THEIR plan to eliminate THEIR debt.
Answer the following 10 questions in your head (Don't worry. There is no final exam);
Do you have a mortgage(s), car loan(s), credit card(s), student loan(s), installment loan(s), and/or medical bill(s) you wish you could pay off?
Do you own a company and have company debt? Equipment loan(s)?
Would you like to get it all paid off within a time frame you can see? Rather than in 30-40 years?
If you are someone that can develop new, financially healthy habits, and can stick with their new plans when the going gets tough then I can help you change your life.
If this is you, then ask yourself again, the question… and if you think the answer is yes or "HECK YES!" then book an appointment with me for late April or early May. Or call me at 859.654.0120 x1000.
Oh, by the way… the above questions establish who benefits from the program, the most… you do not have to have certain answers. Everyone can benefit from this. If you have debt you wish to pay off, you could benefit from what I have to show you.
It's not a "debt consolidation" program of any type like you hear about on the radio or television. There are no banks involved. There are no credit-unions, or savings and loans. Nothing like that. This is not about bankruptcy or sticking anyone with your bills. This is all about managing your cash better using the tax laws correctly.
Just for the record; there is no cost and no obligation to talk about this program and explore its viability for YOUR situation.
Talk to you soon.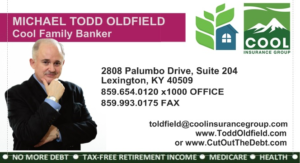 SCHEDULE A FREE EXPLORATORY APPOINTMENT
I have set aside Monday's to meet with interested parties.
---
REAL LIFE CLIENT TESTIMONIALS
This is a new program to Lexington, Kentucky. For now we will just have to offer you some testimonials that came from all over America.
"Unbelievable! A fantastic, educational, enlightening read! I am a certified financial planner and have literally recommended this book to over 50 people in the week since I read it. Every one of my 400 clients will have it and use it as their "turn to" source when they are trying to remember why we have set up what we did. I will be forever grateful to have it as a reference to guide potential clients towards so they can read about the things we are talking about that no one has ever spoken to them about and they can't figure out why. Thank you, thank you for your efforts to bring people financial freedom."
Kim D. H. Butler CFP, Phoenix, AZ 
(Kim is a financial adviser to Robert Kiyosaki, Author of RICH DAD,POOR DAD)
"Permanent whole life insurance is a dynamic tool that should play a major part in any financial plan. I have known this for many years, and studying with Infinite Banking Concepts has only helped to reinforce what I have known to be true. Infinite Banking Concepts has expanded my understanding of the product, how it works and what individuals can use it for when a little imagination and initiative is applied."
David Dick President, Compass Benefits, El, Paso, TX
"When I think of the long-term effects on those who read Becoming Your Own Banker, I see: Less divorce in our country. Most of the divorces have financial matters at their root. Less need for government interference in out lives. Obeying the principles will preclude the need for Social Security. Peace of mind. This will have an effect of life span and overall health. Control of your own destiny. The ability to serve others more effectively. This concept allows all these things to happen. I'm glad I was introduced to it many years ago and was able to play a part in its development."
Roland J. Nelson Pharmacist, Birmingham, AL
"The concept offers a chance to accumulate much greater sums of money 'tax-free' than is possible with IRAs or 401(k) plans, without being forced to wait until age 59 ½ to use the money without penalties, or being forced to begin taxable withdrawals at 70 ½."
Kent Basson
Engineer, and a recent graduate of Law School at Washington & Lee University.
"…my Family Bank Agent really took the time to educate me on important financial principles giving me valuable insight into money that I never had before."
E. C. Florida
"I wish I had learned about building my own private bank concepts earlier. Now I am in the 4th year of building my own bank. However, I was able to finance a car last year already if I wanted to. The system is amazingly simple to follow and it makes so much sense for the real wealth building and preservation. It provides more than recovering the interests and cost of the car and any major purchases; it also provides many instant tax-favored benefits I did not have before. I am not only using the system for car purchase, I am also building my own bank for emergency cash reserve, liquid cash for other investment opportunities, my retirement savings, etc. I wish I had started the system much earlier."
C. L. California
"As a part time college professor with three kids, it is important for me to know where every penny is going. Your Family Bank showed me how I could use existing equity in my house to create a banking system that could pay off my current car loans. Now I am making the car payments to my bank instead of someone else's bank! It's amazing how much more money is available when you're working with someone who knows where to look and how to find it. Plus, if something were to happen to me, I know that my family will be taken care of financially. It's amazing to think that you can have that kind of peace of mind and make money at the same time!"
S. B. Maryland
"We had a 529 plan that had not made a dime in six years. Our Family Bank Advisors walked us through the process and explained the concept after we read the book. Now we know what we will have when our kids get to college. Everyone with kids getting ready for college needs to get Your Family Bank."
L. M. Florida
Facebook Comments