About Michael Todd Oldfield
The healthcare insurance market is complicated.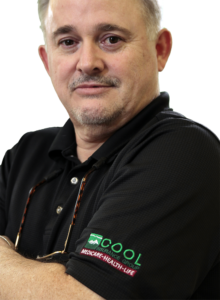 Everyone; seniors and those under sixty-five need a guy like me to help them navigate it's complexities. I am seasoned, experienced, and VERY knowledgeable about Medicare. Plus, I love to teach. I can help anyone understand Medicare and other programs. So whether you are just now aging in or you need help with your under sixty-five, Affordable Care (ACA) plan, I invite you to give me a call or meet with me. I will be happy to do all I can to help you.
I am licensed by the Kentucky Department of Insurance and happily appointed as an appointed agent to MANY MANY OF THE BEST companies.
---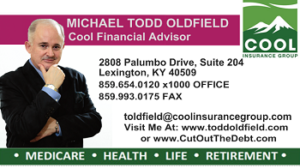 What I Do Best
The simpliest way to say it is; I listen, learn, and teach. I do not visit anyone with any purpose other than to learn about their case and advise them the best I can.
All types of personal health and life insurance products including life insurance, health insurance, critical care, dental, vision, fixed and indexed annuities, and long-term and home health care. I can help you save money and I can help you grow your money for retirement. And, everything in between.
HEALTHCARE: I Serve Medicare Beneficiaries
Are you on Medicare or about to be? I use Medicare's own website; www.medicare.gov to assist me in researching every client's case. We look together to find the least cost route to take that will provide beneficiaries with the best protection given their individual needs. There is no better resource than Medicare for this information.
Marketplace ("ACA") For Those Under 65 Years of Age and Not on Medicare
Our company, the Cool Insurance Group, LLC has established our own healthcare exchange platform to assist you in your Affordable Care Act plan. The features and functionality very closely resemble the former Kynect.com which was eliminated in Kentucky at the end of 2016. I offer my assistance in helping you navigate and explore all your healthcare options in this rapidly changing market.
Working together we can find out ALL you are eligible for and help you take advantage of all subsidies to make your healthcare insurance costs the lowest possible.
ACA is not the only item "under 65's" need to concern themselves with however. We need to have thoughtful discussions on the topics of life insurance, estate planning, critical care, and of course "long-term" case planning and suitability.
MEDICAID: For those who are struggling and need some help, I am happy to help you get set up with our Medicaid system through the state. Call me and we will do it together.
LIFE INSURANCE – Term & Whole Life Insurance
Final Expense
Morgage Protection
Debt Elimination For EVERYONE That Has Debts
Did you know that there is a way to get rid of all your debt; including your mortgage? It's takes less than nine years. The good news is that most people do not see their monthly budget change while doing it. That's right, you may not have to spend a nickel more to do this. AND, it's all guaranteed. Now, is that not worth a conversation?
---
Please give me a call at 859.654.0120 extension 1001 or drop me an email to toldfield@coolinsurancegroup.com and I will be happy to reply.
Next – More Information
---
Real Client Testimonials
Read what a bunch of people say about the work I do.